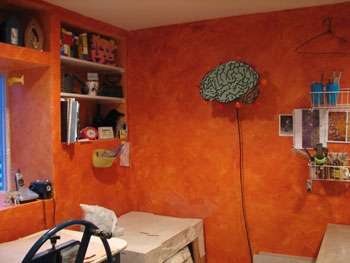 Meet the Founder
─ a Brief Introduction & Overview
Connie Norman is a ceramic artist and teacher. She currently teaches in Wyoming. Connie has taught at Anderson Ranch Art Center, Carbondale Clay Center, University of Wyoming, and Carey Jr. High in Cheyenne, Wyoming.
Connie was born in Japan and raised all over the world. She is a graduate of the New York State College of Ceramics at Alfred University and concentrated in ceramics and ceramics sculpture. She has also studied ceramics in Tokoname, Japan. Her work has been shown nationally and juried into many national shows, including Strictly Functional, Ceramics USA, and Origins in Clay, and a solo exhibition at NCECA, 2006. Connie is a Robert Rauschenberg Foundation Fellowship recipient winner for 2002. Also, in 2005 she received a Wyoming Art Council Visual Art Fellowship. Her work has been published in Ceramics Monthly. In December of 2004, she was on the cover of Ceramics Monthly.
All my life, I have struggled with writing; now, my work is completely covered in the text. This paradigm shift has allowed me to experiment with different art forms and face fears through the medium of art. An interesting adventure in self-discovery! The text in my pieces acts on several levels. For instance, it has texture, pattern, mystery, and a path to look inward to decipher a glimpse into my private thoughts.
I am fascinated by the rhythmic qualities created by color, texture, and patterns. Decoration and the act of decorating are essential because it celebrates and enhances form and speaks purely of aesthetics. I use pottery as a vehicle to explore decoration and other formal questions. It allows me to investigate form, space, and image. My greatest satisfaction comes from thoroughly filling surfaces with color and finely detailed decoration in a spirit that I feel is playful and whimsical. My attempt is to make the environment an expressive participant and to address the importance of aesthetics in our daily lives.